Ming Thompson said that "you become a designer because you want to design things, and now we spend a little less time designing, but we're also designing our firm and designing our lives." She made us think about some of the ways other GLYandM women have designed their own lives.
Writer Monica Byrne creates plays, novels, and stories with the support of patrons on Patreon, the creative sponsorship platform. Fran Watson identified an underserved community in legal services and started her own LGBT-focused law practice.
Monica Byrne wanted to be the first person to set foot on another planet. Then, she realized that she'd rather stay here on Earth, imagining a different world as a science fiction writer. She tells us why she believes that science fiction is an activist platform, and how her low tolerance for unhappiness makes her more inventive in making a living as a writer.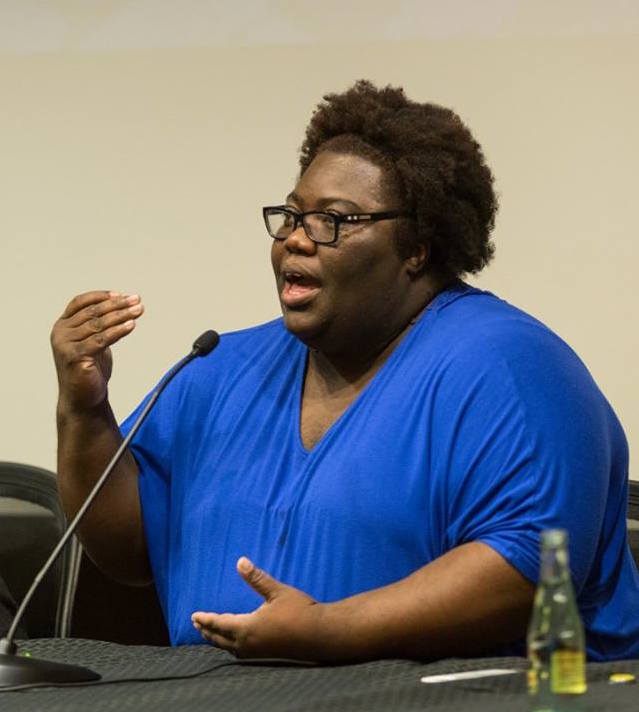 Fran Watson traces her start as an activist to a 2011 climbing accident that left her with two broken legs. But, she's spent her life looking out for people who need support, starting with her own family. Fran started her own law practice to protect clients with same-sex partners with will, trusts, and probate in the days before same-sex marriage. With the support of her wife and her church, Fran is a tireless advocate for the Houston LGBT community.
Emily Graslie brings science to life as the Chief Curiosity Correspondent at the Field Museum, but she spent years developing her voice and knowledge with the Brain Scoop before it became her dream job. Graphic designer Allison Bhatta worked at an ad agency before making the leap to freelance work. After another stint at an agency, she's once again working for herself.
Emily Graslie, creator of the Brain Scoop, grew up in South Dakota having adventures in the outdoors. A visit to her college's museum with a friend her senior year in art school changed her life. Her enthusiasm for the museum led to her own youtube channel, The Brain Scoop, which caught the eye of the Field Museum of Natural History in Chicago. They hired Emily to be their Chief Curiosity Correspondent, a position created just for her, and she's been sharing their amazing collections ever since.
Allison Bhatta is the senior art director at an advertising agency, where she uses her design skills to solve client problems. She talked to us about her "compulsive maker ways," her practical approach to figuring out what to do with her life, going from full-time work to freelance and back again, and how earning "half a master's" degree put her on her way in the advertising world.
Lizy Dastin combined her love of teaching, art, and LA into her own business, Art and Seeking, to make sure other people know the stories behind the vibrant Los Angeles street art scene. Maree Martinez left behind a traditional teaching career when she moved to Canada, and found a new way to educate as an on-set teacher in Toronto's thriving television and film industry.
Growing up, Lizy Dastin wanted to be a teacher and an author. Today, she teaches art history, and is still a storyteller. Lizy doesn't tell stories by writing fiction, like she did as a teenager, though. She shares the stories of street art and street artists in Los Angeles through her business, Art and Seeking.

Maree Martinez fell in love with Shakespeare at ten, then thought she might be a historical consultant on films, before deciding to leave her PhD program at Cambridge because what she really wanted to do was teach. After teaching history at a middle school, she moved with her family to Toronto, where she noticed signs of the city's film production as she explored with her son. She wondered who taught the kids on those sets, and soon enough, she was.