It's been a tense and intense week since Election Day, and many people have been inspired to raise their voices and take action to support the causes they believe in. There are many ways to get involved in the community, as a volunteer, a donor, or professionally. As a reminder of how many people devote their lives to bettering their communities in all kinds of ways, I wanted to highlight some of the women we've talked to who work to make the world a kinder, fairer, better place.
Fran Watson, Amy Wallner, and Kelly Suzanne Saulsberry all work to make the communities better places, through advocacy for the LGBT community; providing fresh, high quality produce for the food insecure; and ensuring fair treatment of citizens by city government.
Breanna DiGiammarino, Shae Smith, and Emily Graslie use the power of the internet to support impact-driven endeavors, help people organize their own community service projects, and educate people about science.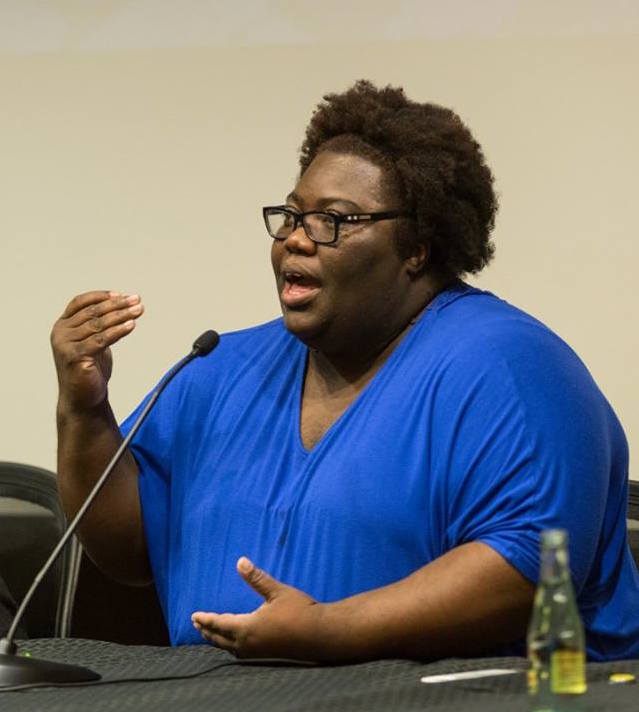 Fran Watson traces her start as an activist to a 2011 climbing accident that left her with two broken legs. But, she's spent her life looking out for people who need support, starting with her own family. Fran started her own law practice to protect clients with same-sex partners with will, trusts, and probate in the days before same-sex marriage. With the support of her wife and her church, Fran is a tireless advocate for the Houston LGBT community.
"Born and bred" Chicagoan Kelly Suzanne Saulsberry now works for the City as the Director of Policy and Outreach at the Chicago Commission on Human Relations. She tells us about the roots of her passion for civic engagement and social justice, crises of confidence, investing in herself, and that she'd tell her teenage self, "Girl, you're all right."
When she was 11, Breanna DiGiammarino danced in the Nutcracker with the Joffrey Ballet. Later she used her passion for dance as a benchmark for any interest she was pursuing, and asked herself four questions: Is it something I enjoy? Am I good at it? Am I learning while I do it? And is it changing the world for the better? Does her job as the Senior Director of Social Innovation at crowd-funding platform Indiegogo meet those criteria? "Definitely."
After an intro computer science class in high school, Shae Smith fell in love with programming. After graduating from Smith with a computer science degree, she "hopped around" to several jobs before landing at DoSomething.org. Today, she works to make their platform better and is involved with several organizations supporting youth in New York City.
Emily Graslie, creator of the Brain Scoop, grew up in South Dakota having adventures in the outdoors. A visit to her college's museum with a friend her senior year in art school changed her life. Her enthusiasm for the museum led to her own youtube channel, The Brain Scoop, which caught the eye of the Field Museum of Natural History in Chicago. They hired Emily to be their Chief Curiosity Correspondent, a position created just for her, and she's been sharing their amazing collections ever since.