Stephanie Jass: Find out more about...
Reacting to the Past
Stephanie and I chatted at length about Reacting to the Past, and this is how she described it:
"Since the late 90s, people have been developing games that center around particular historical moments where there were decision points or paradigm shifts where there is evidence about what people were debating and talking about. Students are required to take on historical personae and be familiar with their arguments and then make them. It can be really transformative for them and for you. It's tons of fun.
You have a more sophisticated understanding of the time and you realize how much history is made up of people. If one of these characters who was maybe a jerk in real life and alienated people is now played by a student who's more diplomatic and better at bringing people together you get a whole different result. It really is about people. If you want to change and impact things going forward you have to learn a different set of skills potentially to make change happen that you want and that's interesting.
Not only is it designed to help you understand past issues and what people grappled with, but you're often required to play players who do not ideologically believe what you believe. The couple of pieces of actual scientific research that have been done studies that have been done on Reacting show that they improve empathetic skills more than anything else."
You can see video of students at Barnard participating in a Reacting game here.
Get involved with history
Stephanie encourages anyone who's interested in history to learn about it on their own and from publicly available resources. Reading is probably the easiest way to learn about history. Your local library will have books about lots of different periods of history and at a variety of reading levels, too. Most communities have a historical society or history museum. Learning about the history of the place you live is a great way to feel connected to our past. What's the same? What's different?
You can also find visit historic places to visit through the National Register of History Places, cities, and the national and state park systems.
Women's history
The National Museum of Women's History doesn't have a permanent home yet, but it's a great resource on women's history in the United States. They have cool online exhibits like this one on women who have run for president.
There are tons of great books about women in American history. Some of my favorites are by Harvard President Laurel Thatcher Ulrich, like Well Behaved Women Seldom Make History. And, lots of great websites highlight cool women in history, like the National Women's History Project and one celebrating Women's History Month, and two projects called Unsung Heroines, one from PBS, Celebrating the Accomplishments of Under-Recognized Women and the other on instagram, recognizing female athletes from the past.
You can also visit one of our newest national monuments, Belmont-Paul Women's Equality National Monument, which was established on April 12, 2016. The house, in the Capitol Hill neighborhood of Washington, D.C., was the headquarters of the National Woman's Party, which fought for votes for women and then for equality for women in other spheres.
Foodways
Stephanie teaches about the emerging field of foodways, the eating habits and culinary practices of a people, region, or historical period. One incredible-sounding resource is a database of cookbooks at Harvard run by librarian Barbara Ketcham Wheaton, who intends "to log every recipe, ingredient and technique in the vast majority of all the cookbooks published in America and Europe."
If you're interested in finding out a little bit about American food history, the tv show Cook's Country often gives a little historical background about the recipes they make. Christopher Kimball who runs its parent company, America's Test Kitchen, explored American Victorian food culture by creating Fannie Farmer's Last Supper, based on the Boston Cooking-School Cook Book by Fannie Farmer. Farmer is considered the founder of domestic science, and her cookbook introduced accurate measurements into cookbooks.
The Southern Foodways Alliance explores Southern food culture, and has its own podcast, Gravy. For a more global perspective, NPR's The Salt looks at foodways around the world.
Performing
Stephanie is part of a trio called Ear Candy which performs primarily in Michigan. Keep up to date with them on Facebook.
In 2012, Stephanie was a contestant on Jeopardy! She won 7 games, and had a darn good time doing it. You can find out more about her time on the show here, and keep up with news of Stephanie on her Facebook page.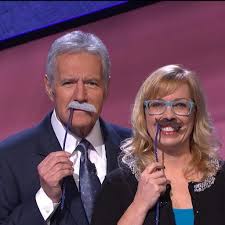 Read our interview with Stephanie and check out her reading picks!